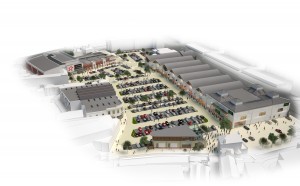 The St James development in Dover received a major boost this week with the news that Marks & Spencer has signed as the anchor retail store. This deal follows hot on the heels of Cineworld signing an agreement in September to lease a six-screen, 21,000 sq ft cinema at the scheme. M&S has agreed to lease a 16,000 sq ft unit following lengthy talks with Laker Developments, in partnership with developer Bond City, funder Stonehurst Estates and Dover District Council.
Richard McGibbon, development manager at Laker Developments, said: "Signing a retailer of the calibre of Marks & Spencer soon after Cineworld gives the St James scheme fresh impetus. We now have two very strong anchors for the development, providing the catalyst for the next stage of marketing. Negotiations are already well underway with restaurant operators for the units alongside the cinema."
Cllr Paul Watkins, leader of Dover District Council, added: "Securing M&S and Cineworld at the St James development is a major step forward in our plans for the town centre. The deal with M&S represents an important commitment from the retailer to Dover at a time when it had been reviewing its options, including whether to exit the town. We are confident that this will open the door to further investment as other retailers follow suit."
M&S' existing Dover store in Biggin Street will close following the relocation to its new site.
Laker Developments has also submitted a revised planning application for the development to accommodate the new cinema and three restaurants, a decision on which is expected before the end of this year. Once planning consent has been granted, a compulsory purchase order will be submitted to the Secretary of State for the small portion of the site not under the control of the developers.
St James totals 120,000 sq ft of mixed-use retail and leisure with parking for 445 vehicles within the Dover Town Investment Zone. It will provide 18 retail units on an eight-acre site bounded by Castle Street to the north and Townwall Street to the south.
The aim is to commence construction towards the end of next year for completion in summer 2016.
Jones Lang LaSalle and Stephen Buckle & Co acted for Bond City in the Marks & Spencer deal; Jones Lang LaSalle and Prime Retail advised Bond City on the Cineworld deal; MMX Retail acted for Marks & Spencer; Wareing & Partners advised Cineworld.